General overview
In order to understand the water dynamics of karst aquifer a comprehensive hydrogeological investigation of those systems is required. For the case of the Lomme Karst System (LKS), we benefit from a detailed knowledge of the geological context as well as previous karstologic and speleologic studies describing the main features of the system. However, the exact functionning of this karst system is still unknown.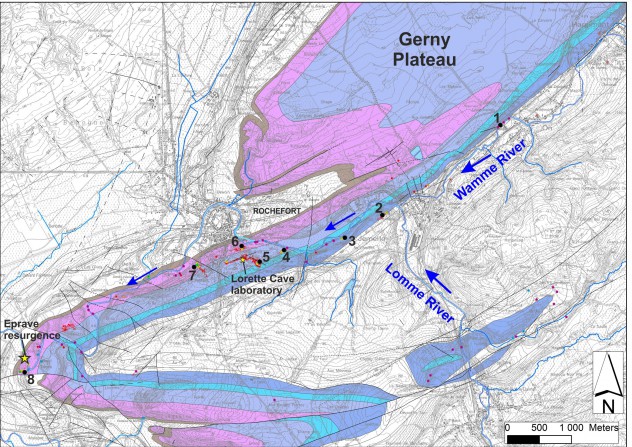 Based on previous knowledge, a investigation methodology has been developped in order to collect new data for the LKS. For this purppose, present knowledge of hydrologicaly active speleologic networks is also used.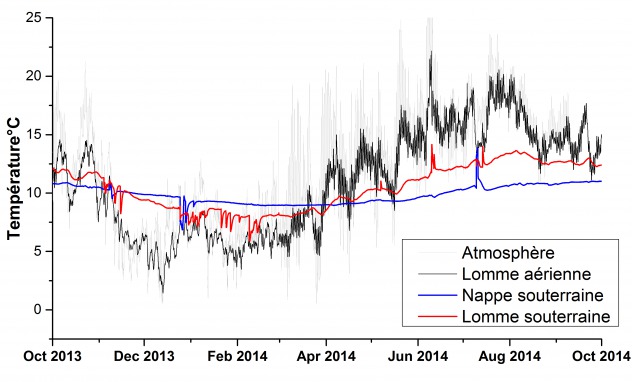 Since 2013, a regional high temporal resolution monitoring network has been installed inside the LKS and on the Gerny Plateau. This network is composed by 20 piezometric probes in the phreatic zone of the karst aquifer. Water level fluctuations, discharge measurement and meteorological data will allow to precise the karst aquifer dynamic and to calculate an hydrogeological budget.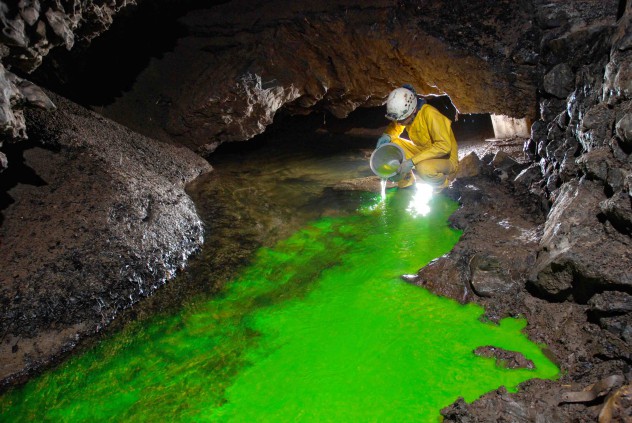 Besides the permanent monitoring, dye tracer will be conducted within the saturated zone of the LKS. Variable injection and sampling points will help to understand the hydrogeological organisation of this system for variable hydrological conditions.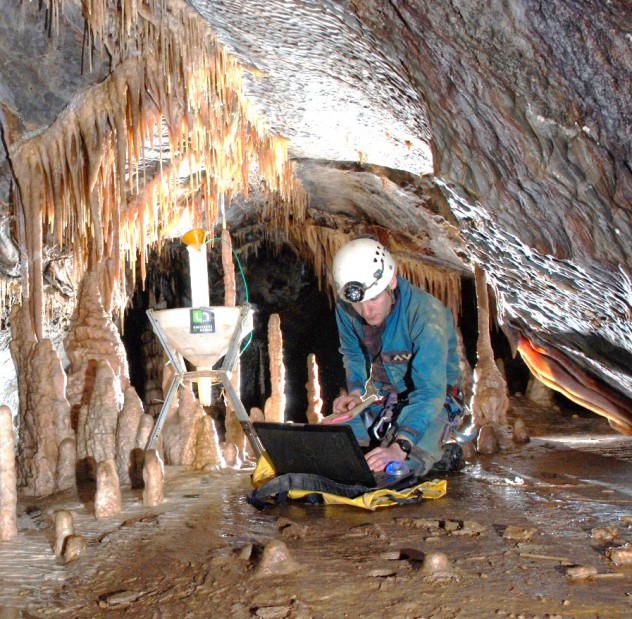 Hydrogeology of unsaturated zone is also investigated. We benefit from previous data from the Han-sur-Lesse karst system, in the same geological context than LKS, where the vadoze zone hydrology is under study since 2007. The same methodologies are developped in the LKS with stalactite drip monitoring and surface to cave dye tracer. The dynamic of the unsaturated zone is one of the main goal of the KARAG project. Improving the knowledge of the surface, the epikarstic zone and the groundwater interactions aims to assess groundwater vulnerability in karstic area.
Vulnerability of potentially karstified limestone aquifer is a major challenge in term of sustainable development as in Wallonia, 80 % of the drinking water is abstracted from such aquifer.
The final objective is to conceptualize and model the LKS karst aquifer and also describe the water dynamics in both time and space for the saturated and unsaturated zones. The knowldge of this dynamic will allow to properly interpret the geophysical and gravimetry investigation results (see section Hydrogeophysics).