The Lomme and Wamme karst system is one of the major karst phenomenon in Belgium. There is almost 10 km from the first sinkhole to the main exurgence of the system : the Eprave resurgence. This vauclusian spring is the biggest in Belgium with an average discharge of 800 litters/sec.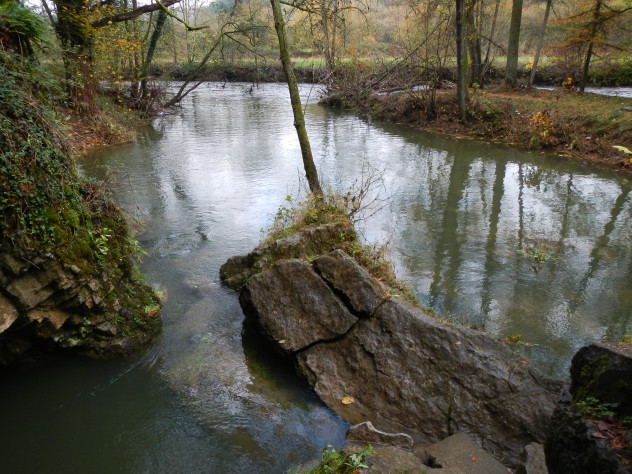 The LKS is located in a serie of Middle Devonian limestones (Givetian Stage) of southern Belgium, near the city of Rochefort. Those limestones show strong karst features and numerous caves, accounting some of the biggest in Belgium (Han-sur-Lesse cave, Rochefort cave…).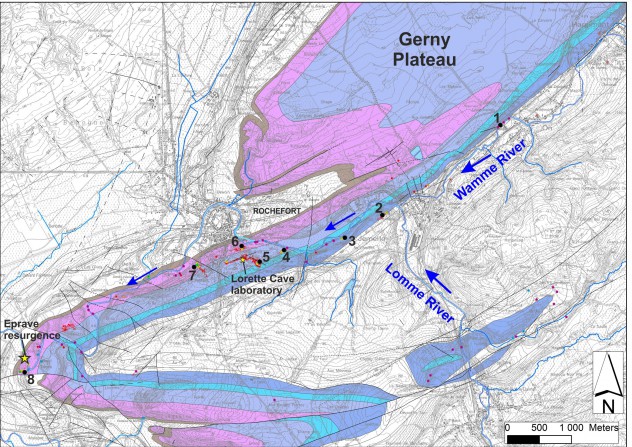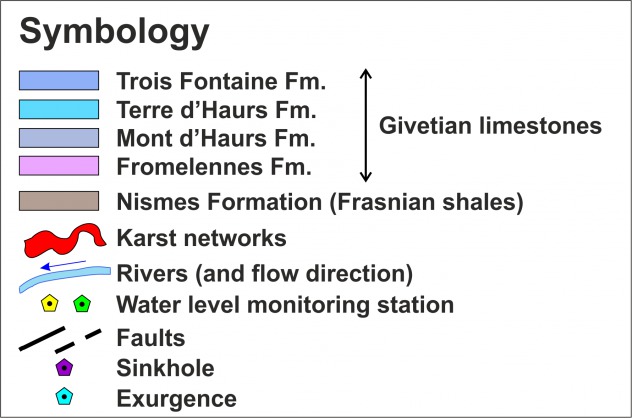 The Lomme active karst is a simple sinkhole-exurgence system. Over the whole catchment area, the water of the Wamme and Lomme rivers feeds several underground streams flowing from north-east to south-west, following the geological structure.
At the western point of the limestone extension, those water flows are forced to emerge at the Eprave exurgence because of the hydrogeological treshold caused by the shales of the Nismes formation (Frasnian). The abundance of karst features discovered in the area allows many acces to the groundwater (water table, underground rivers), which are a great opportunity to study the LKS. For this particular puspose an important network of monitoring devices was installed inside the system thanks to the collaboration of speleologist who explore the system. The nearby Gerny Plateau is also under study with several wells. The interaction between the LKS and this plateau is also on the scope of the KARAG project.
The goal of the hydrogeological study is to understand the functionning of the LKS and the organisation of the underground streams and connections inside the givetian limestones. The phreatic zone dynamic is of particular importance to read and understand the geophydical data collected at the Lorette cave laboratory.